Professional care and quality service
sets us apart.
WELCOME TO

GULF COAST AUDIOLOGY

At Gulf Coast Audiology, our hearing health professionals are here to help enrich your life with all the sounds the world has to offer. Services we provide include hearing tests; hearing aid selection, fitting and programming; audiologic rehabilitation and counseling/education for patients and their families. By utilizing comprehensive hearing evaluations, we work to find the best hearing solution for you. Our staff is trained in the latest hearing technology and offers a state-of-the-art hearing aid selection. In addition, we offer personalized follow-up care to ensure that you remain satisfied with your hearing.

ABOUT US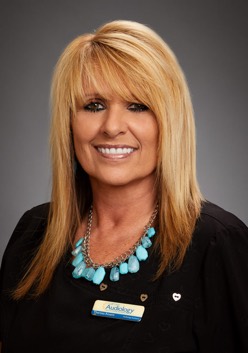 Celebrating Theresa Farabee's

10-Year Anniversary
This June marks Theresa's tenth year with Gulf Coast Audiology as a licensed audiology assistant. Please join us in thanking her for her continued dedication to our practice and outstanding patient care!
HEARING LOSS PREVENTION
Noise-induced hearing loss is one of the most common causes of hearing loss. Extended exposure to sounds over 85 dB (the volume of heavy city traffic, a garbage disposal or a carwash) can cause hearing damage. Wearing protective hearing devices such as earmolds can ensure your ears are safe.
COMPREHENSIVE
HEARING EVALUATIONS
Audiology evaluations consist of a series of tests used to determine whether hearing loss is present and, if so, measure its type, degree, configuration and underlying cause. An audiologist will assess the results of each test in order to develop a treatment plan geared toward your unique condition.
HEARING AIDS
Once your hearing loss has been assessed and diagnosed, you will work with your audiologist to choose the perfect pair of hearing devices for your needs. Once you've determined which hearing aids are right for you, it is time to order your devices, which will be custom created for your ears.