Recent studies have found that practicing yoga can help reduce tinnitus – a condition that causes ringing, whistling, buzzing or humming in the ears. While there is no cure for tinnitus, yoga is just one of the many options for helping reduce symptoms.
About the Studies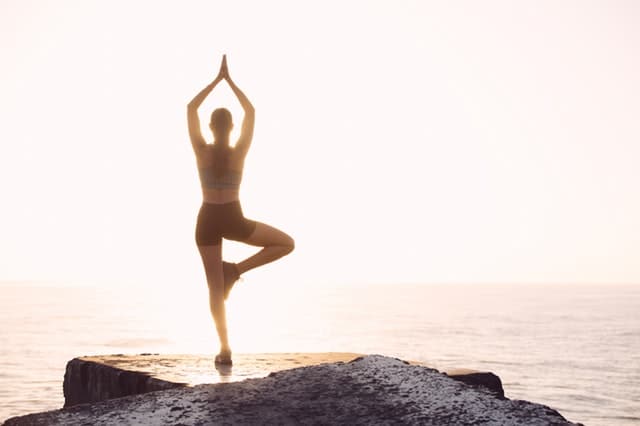 A 2018 study in Turkey studied the effects of yoga on subjective tinnitus (meaning the tinnitus has no external sound source). Researchers followed 12 participants who practiced guided yoga over three months. Practice involved body exercises (asana), breathing exercises (pranayama) and meditation (shavasana).
The researchers hypothesized that because tinnitus symptoms are often linked to stress, and because yoga is considered a stress-relieving activity, yoga could help decrease symptoms for patients with chronic subjective tinnitus. They concluded that there were statistically significant differences in the stress, handicap and severity scores on tinnitus questionnaires.
"This study indicates that yoga practices may reduce life stress and symptoms of subjective tinnitus," researchers reported.
Polish researchers conducted a similar study in 2019. This study followed 25 patients with chronic tinnitus over 12 weeks of yoga training. Ten of the participants underwent an MRI scan before and after the training, and all participants took the tinnitus functional index assessment.
Researchers identified that the participants benefitted most from improved sense of control over tinnitus, lessened intrusiveness and enhanced sleep and quality of life. MRIs revealed stronger connections of white matter in the brain after training, as well.
"Yoga training has good potential to improve the daily functioning of patients with chronic tinnitus and can be considered a promising supporting method for tinnitus treatment," the researchers concluded.
About Yoga Practice
Yoga originated in India around 6,000 BCE and has become popular worldwide for its benefits of improved flexibility, strength and relaxation.
Yoga also helps improve circulation, which has been linked to a healthy auditory system. The poses below are great for promoting healthy blood flow and may be especially helpful in reducing tinnitus symptoms:
Trikonasana (triangle pose)
Padangusthasana (hand to big toe pose)
Adho Mukha Svanasana (downward facing dog)
Ustrasana (camel pose)
Gomukhasana (cow face pose)
Bhujangasana (cobra pose)
Viparita Karani (legs up the wall)
Matsyasana (fish pose)
For more information about tinnitus treatment options, contact Gulf Coast Audiology today!